Contact: Closed from August 1 to 15
The documentation and emails that arrive in this Section from July 30 to August 15 will be processed from August 16.
Helplines
+34 91 398 6612
+34 91 398 6614
+34 91 398 6616
+34 91 398 8984
If you face any technical issues when submitting your UNEDassis application, please call +34 913 98 88 01. We are available on weekdays from 9.00 am to 8.00 pm (UTC+01.00)
Appointment Request (mandatory):
If you need to be attended in person, you must request an appointment through the following link. You have two types of face-to-face care:
Attention in our office (Madrid, Spain)
Attention by video call offered from 9 a.m. to 2 p.m., local time in Spain (UTC + 01:00)
If you need to be attended in English or French, you must request the appointment by email, sending your request to unedasiss@adm.uned.es.
Our location:
Edificio Facultad de Educación
C/ Juan del Rosal,14
28040-Madrid (Spain)
Opening hours: Monday to Friday from 9:00 to 13:45.
Getting there by bus:
82 - Moncloa - Barrio de la Fuentelareina
83 - Moncloa - Barrio del Pilar
133 - Plaza de Callao - Mirasierra
U - Ciudad Universitaria - Juan del Rosal ? UNED
F - Gta. Cuatro Caminos - C. Universitaria
G - Ciudad Universitaria
I - Ciudad Universitaria- Somosaguas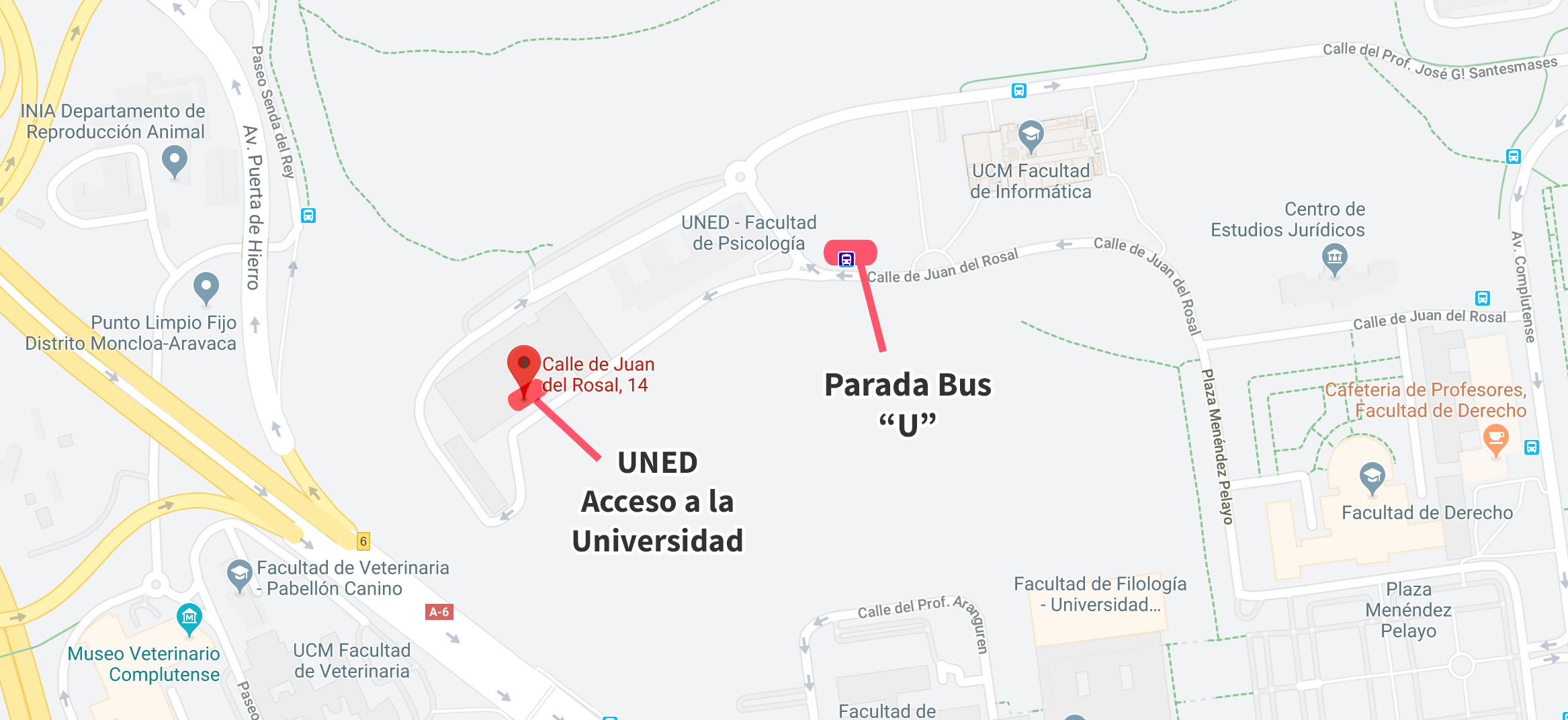 Line U.
Bus stop: next to the Faculty of Psychology, UNED. Unavailable during school holidays.
Line 83 (Moncloa - Barrio del Pilar), Line 133 (Plaza del Callao - Mirasierra) and Line I (Ciudad Universitaria - Somosaguas).
Bus stop: The "Facultad de veterinaria" bus stops found on both sides of the N-VI motorway (autopista de A Coruña) and linked by a footbridge. UNED buildings can be seen from said stops.
Line 82 (Moncloa - Ciudad Puerta de Hierro) Line F and Line G (Cuatro Caminos - Paraninfo - Filosofía B).
Bus stop: next to the Faculty of Law (Facultad de Derecho), Complutense University